EXPEDITION ADVICE AND TIPS
We realize that expeditions require a huge amount of personal preparation for our members.
The following notes are aimed to help you to prepare for the time you will spend with Himalayan Experience, we hope they help.  Please read the information thoroughly, and get in touch if there is any further information which we can provide.
Complete your Application Form with passport, CV, photo and request for specific Himalayan Experience trip.
Upon acceptance Himalayan Experience will forward an Invoice with payment details. The deposit needs to be received within 30 days in order to reserve a position on the selected trip.
Bookings more than 120 days prior to departure require deposit.
Bookings more than 60 days but less than 120 days prior to departure require deposit, plus first payment.
Bookings less than 60 days require full payment.
Complete Agreement Form and return at the same time as deposit payment.
Complete and return Information Form no later than 120 days prior to departure.
Complete and return Medical Information no later than 120 days prior to departure.
Read and understand the Terms and Conditions
Read and understand the Equipment List and make sure that you have this suggested equipment.
Himalayan Experience will send General Instructions for arrival in Kathmandu.
3 nights hotel accommodation on a shared twin bed and breakfast basis whilst in Kathmandu, and en route to the Base Camp and on the return
Transport from Kathmandu to Base Camp and return
All peaks fees and administration fees
All Western Guide fees (less bonuses)
All Sherpa Base Camp Staff fees (less bonuses)
All high altitude Sherpa Staff fees (less bonuses) and their equipment
All meals en route to and from Base Camp, at Base Camp and on the mountain
All group equipment such as tents, stoves, ropes, climbing equipment, group first aid, hyperbaric chambers, radio communications, oxygen above 7,500m, and all sleeping bags and mats in all high camps will be supplied.
Air travel to and from Kathmandu
Drinks, laundry, postage, telephone calls, emails and all other items of a personal nature
All meals in Kathmandu
Original entry visa into Nepal can be obtained at the airport upon arrival.
Personal medical and travel insurance/cancellation insurance
Personal spending money and tips
Sleeping bags and mats at Base Camp and/or Advanced Base Camp.
The expedition price set by Himalayan Experience is the actual cost for the expedition. There are no discounts.
We can only accept bank transfers, not credit cards or cheques.
Our costs are based on a minimum of 6 expedition members – if this minimum is not reached Himalayan Experience reserves the right to cancel the trip and to refund all monies or to request those already booked to pay a surcharge to cover the increased costs.
Occasionally the authorities change certain mountaineering rules which in turn can affect expedition costs. Upon notification to the client of such changes, Himalayan Experience reserves the right to charge additional fees to cover such increases.  Himalayan Experience reserves the right to adjust the price of an expedition should Climbing Permit (or other) fees be changed without prior notice.
Prices are set in Euros. Payment from a different currency will be calculated at the exchange rate of the day that the payment reaches the Himalayan Experience bank account.
Members are responsible for all bank charges. Any such charges incurred by Himalayan Experience will be charged to Members.
Extra expenses should be paid directly by cash at Base Camp or Kathmandu prior to the departure at the end of the expedition.
Himalayan Experience will endeavour to have a qualified Doctor on our Team, but failing that, will have access to another expedition team's Doctor at Base Camp.
Himalayan Experience Guides all hold a valid Advanced First Aid Certificate. There will be a substantial first aid kit at Base Camp, along with a hyperbaric chamber and medical oxygen equipment. There will be small first aid kits in the high camps, with medicine to deal with altitude and minor camp injuries.
Himalayan Experience will supply small but comprehensive travel kits for travelling to and from the Base Camp.
Western Guides and selected Sherpa Staff will carry first aid kits including altitude medicine whilst climbing above Base Camp.
Each Member should have a small personal first aid kit.
Please fill out your medical form accurately and correctly.
Your safety and the safety of other Members, Guides and Sherpas will depend on Himalayan Experience having a full disclosure of the medical history of each Member. This also helps our doctor to treat you in case of an emergency.
All medical records are confidential and are only shared with the expedition Doctor and Guides.
All Members must have sufficient emergency evacuation insurance that will cover an evacuation from high altitude. Himalayan Experience suggests GLOBAL RESCUE: https://partner.globalrescue.com/himex/index.html
We are Safe Travel Partner.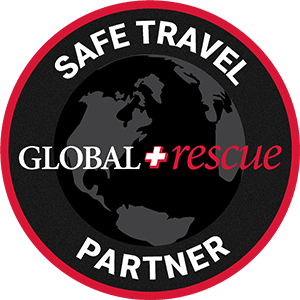 It is recommended that Members have cancellation insurance in case of an accident prior to departure, during the expedition or if the trip is cancelled due to unforeseen circumstances.
Himalayan Experience does not accept Members under the age of 18 and recommends that those over the age of 60 should consider very carefully the strain and risk that is put upon the body.
For applicants over the age of 60, Himalayan Experience may require extensive medical tests.
Safety is paramount during the course of an expedition, and Himalayan Experience prides itself on its unrivalled safety records.
Reaching the summit is one thing, but returning safely is much more important. The Himalayan Experience infrastructure is designed to help achieve a good safety record, but this does not mean that accidents cannot occur, Members should be mindful of this.
It is important that Members consult, take advice, and act on the advice given by Guides, Sherpa's and Staff.
Comfort at Base Camp, high sanitation standards, good quality food, reliable radio communications, weather forecasting and Staff training are all obscure but relevant to Members' safety.
Himalayan Experience normally uses UIAGM Guides with previous high altitude experience, but in some circumstances may use non-UIAGM Guides who have a proven record of guiding at altitude.
We endeavour to use new Guides on lower 8,000m peaks before taking them to Everest. On Everest, Himalayan Experience uses a mix of experienced and new Everest Guides.
The Lead Guides that Himalayan Experience uses for expeditions are all UIAGM Guides who have undergone extensive mountaineering training with the emphasis on safety, including emergency evacuation and first aid. These Guides have also extended their training to include high altitude expedition leadership, which includes not only the physical aspects but also the psychology which is required on high mountains.
The lead High Altitude Sherpas have received extensive training in mountaineering skills and have been on many mountaineering expeditions to 8,000m summits. These hardy Guides are practical and efficient at altitude and should be respected for their knowledge and adaptability.
Altitude Sherpas are under the direction of a Sirdar (Headman) and are considered to be equal to western Guides, apart from their knowledge and understanding of medical matters.
Himalayan Experience has experienced local Staff who are all familiar with local conditions and who have
a vast experience cooking for both western and local Members.
Himalayan Experience will endeavour to have the following Staff ratios, although circumstances that may be beyond the control of Himalayan Experience may at times alter this.
Western Guide 1: 4 Members
Sherpa Guide 1: 1 Member
Base Camp Staff will depend on numbers of Members, Guides and Sherpas as well as location.
Himalayan Experience is mindful of the impact that our Teams have on the mountain and its surrounding environment, and therefore endeavours to remove all rubbish and human waste from high camps, Advanced Base Camps and Base Camps.
This process has required considerable education of our local Staff and is often costly to facilitate.
Members should be aware of these efforts and should actively help where possible. We appreciate your understanding.
Himalayan Experience obtains detailed local weather forecasts from Meteotest in Switzerland. Although experience demonstrates that these are highly accurate, they must be viewed purely as a forecast.
Himalayan Experience and/or Meteotest are not liable for any inaccuracies that may occur.
Himalayan Experience endeavours to supply a healthy and balanced diet during the course of the expedition, normally with fresh meat, fish, fruit and vegetables.
Himalayan Experience does not normally use dehydrated food in the high camps, as this can cause digestive problems when not prepared correctly.  Instead, boil-in-the-bag or meals prepared at Base Camp and then heated at high camps, are preferred.
Members are invited to select their own food at Base Camp to take to higher camps.
In general, Members tend to enjoy sweet foods when conditions are warm and savory foods when conditions are cold.
Himalayan Experience provides chocolate bars, but not specialized energy bars or gels, which are more personal. We suggest that Members bring their own specialized food if they so desire.
Himalayan Experience camps are largely run from solar power.
The lighting in all communal tents is 12 volt.
There is limited access to 12 volt, and 220 volt plugs for charging cameras, iPods, etc.
Members can use cigarette lighter adaptors for 12 volt, and UK and/or European plugs for 220 volt.
All Base Camps will have radios that are open 24 hours per day during the time that Members and Staff are higher on the mountain.
All radio conversations may be recorded during the expedition.
All Members, Guides and Sherpas will be issued with a radio and it is compulsory that these are carried with them at all times when they are above base camp, including summit days.
Members, Guides and Sherpas are expected to have their radios turned on at all times when away from the Base Camp.
Members and Guides are required to inform Base Camp when they depart and arrive at higher camps, and at various other locations which may be required following discussion at base camp.
It is the responsibility of all Members to check that their radios are working correctly and that the volume is such that they can receive messages easily.
Lost radios will be charged at cost price to the individual to whom the radio was assigned at the beginning of the expedition.
All base camps will have telephone communications, either by a base station and/or a portable handset.
Cost of calls will be:
€4 ($5.50) per minute for outgoing calls
€4 ($5.50) per call for incoming calls
All Base Camps will have email communications by ADSL speed connection.
There will normally be two dispatches per day, once in the morning after the sun reaches the camp and once in the evening before the sun leaves the camp.
Each member will be given their own personal SIM card for use in the satellite date phones.
Email and web browsing will be charged by the MB at a cost of €4 ($5.50) per MB.
All radio, telephone and email communication is dependent on solar energy, so Members should be frugal with their calls and mindful of others also using this communal communications system.
It is best to tell those who may send email to Base Camp that they should not include large attachments.
It is cheaper to be connecting email to a dedicated account rather than by webmail. (For instance, Outlook rather than Hotmail.)
Himalayan Experience has several addresses for the particular peak that is being climbed, either Everest or Manaslu. Each Member will be notified of his/her account address prior to departure.
Himalayan Experience will send a communal newsletter out from Base Camp from time to time, but not necessarily every day.
Interested parties can subscribe to this newsletter free of charge by going to our 'News' page
Members who want to send their own newsletters or blogs must request permission prior to departure and must include Himalayan Experience in its mailing address and clearly provide a link to www.himex.com from their site.
If Members wish to bring their own satellite phones and/or laptops, they must inform Himalayan Experience prior to departure.
All members are responsible for all parts of their own equipment: connections, associated cables and charging equipment, and must use it only for personal use.
Mobile phones will work normally in Kathmandu, Lukla and all the way up to Everest Base Camp.
It is possible to purchase local Nepal SIM cards in Kathmandu. Mobile phones will not work in Samagon or at Manaslu Base Camp.
Our Guides and local Staff work hard to ensure that Members have a safe, successful and enjoyable time during their expedition.
Although Himalayan Experience pays all Staff well and gives generous bonuses, the Staff always appreciate extra bonuses from the Members who gain considerably from their dedication.
As a general guideline, Members should budget to bring the following cash in order to pay such bonuses:
Everest Summit: €300/$500 for your designated summit day Sherpa
Manaslu Summit: €150/$250 for your designated summit day Sherpa
Trekking Peaks: €50/$100 for your designated summit day Sherpa
The Base Camp Staff also work very hard to support the Sherpas, Guides and Members, and this is often not seen by the Members.
They also should receive bonuses: Base Camp Staff: €100/$150 from each Member.
Himalayan Experience has been actively helping local communities over the years, and has built and assisted schools, supplied various solar lighting systems to both schools and monasteries, and has helped medical and dental clinics in Tibet and Nepal.
Russell Brice, the founder of Himalayan Experience, is one of the founders and directors of Friends of Humanity and is a patron of SmileHigh. More information can be seen on their websites.
Members who wish to donate money to these local communities should do so via the FOH structure. In consultation with Himalayan Experience, your donation will be spent according to your preferred project.
Many thanks in advance for your support.