26 March – 14 April 2023
26 March – 14 April 2024
Our trip will start at our usual base in Kathmandu, the Hyatt hotel; a luxurious oasis away from the noise and bustle of the city with a beautiful swimming pool and gardens and all the amenities you'd expect from a top class hotel. Here we will assemble and meet the rest of the group, and then talk through the plan for the coming days, as well as head out into town to see some sights and/or buy any last minute essentials.
We then leave Kathmandu via helicopter and land very briefly in Lukla, the place where most other operators start their trek, however we will fly immediately on to Namche. The last couple of years Himex has experimented with this revised plan and it has proved very successful, missing out some very time consuming check points and enabling us to gain elevation from the start of the trek.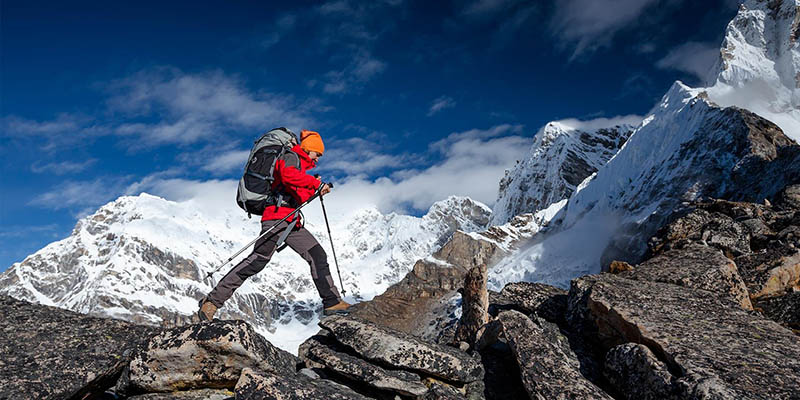 We aim to spend about 24 hours in Namche, giving everyone a chance to explore this wonderful Sherpa town (the largest by far) before we do our first bit of walking to the next village, Khumjung, which shouldn't take more than 3 hours or so. We will be spending two nights in Khumjung, giving us one full day to do some walking in the area, including heading up to the Everest View Hotel where, weather dependent, we should be able to get our first proper views of the mountain itself, and then later in the day a quick trip to the local monastery.
From Khumjung we will make our way to Phortse in the next valley, with a short tea stop at the top of the hill before descending down to the river and back up the other side; a more taxing walk this time with some incredible views of the entire area and a great chance to get some fantastic photos of the mountains around us, including Ama Dablam.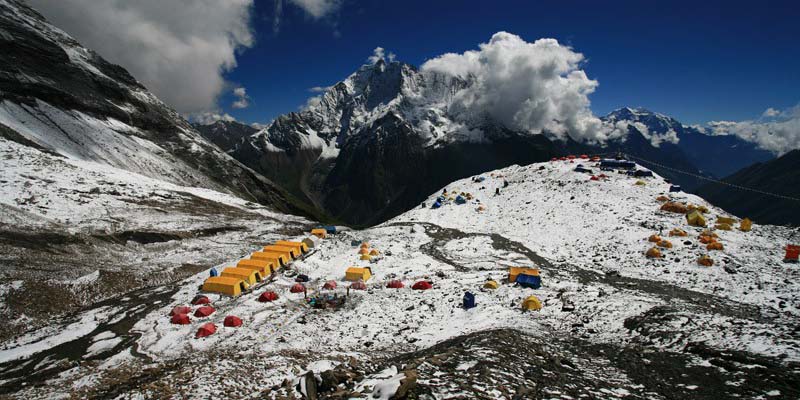 After one night in Phortse, we head out again and make our way to Pheriche where we will be spending two nights, giving us one full day here and a chance to walk up the nearby hill to continue our acclimatisation by spending some time at a higher altitude and then back to the lodge for lunch.
From Pheriche we have a long day ahead of us as we trek up to Lobuche, passing the memorial ground of many of the climbers lost to the mountain over the years. We will spend another two nights at Lobuche to allow our bodies to adapt and rest, offering another chance to do some walking in the hills around us.
After our stop here it's Base Camp Day! Another fairly long day we will be walking through the valley for a quick stop in the last village on the route, Gorak Shep, before we take on the last 2 or 3 hours into Everest Base Camp and a well-deserved lunch. Once we are here, we have 4 days to see some of the rest of the camp, take a trip up the nearby Kalapattar for a fantastic view of Everest, and generally enjoy a bit of expedition life.
The journey back will see us walk from Base Camp to Pheriche, on to Pangboche and then on to Namche where we helicopter back to Kathmandu. It is possible to helicopter straight from Base Camp, but this is at extra cost and will be discussed at the time.
Throughout this trek we will be staying in the best quality lodges, handpicked for their facilities and hygiene, and we also ensure that our own cooks oversee the meals we eat in the lodges to keep everyone in the best health possible.
Himex has been running this trek for longer than almost anyone else out there, so you will be benefiting from our many years of experience perfecting the itinerary to give the best journey possible and maximise your chance to make it all the way; don't forget, this is a fairly demanding hike at altitude which requires a level of fitness and dedication, but of course this makes it even more satisfying when you succeed.