Heliskiing
Gudauri, Georgia
Experience the unique destination of Heliskiing in the Georgian Republic with endless Powder-possibilities. There, where Asia meets Europe, Gudauri Heliskiing offers an extraordinary program with great new dimensions. The vast open spaces of the Caucasus Mountains will captivate you.
27th February – 6th March 2021
6th March– 13th March 2021
7 nights (Saturday – Saturday)
€ 8.750,-
Freeriding
Our complete package guarantees you Austrian standards, skiing in groups of maximum 4 skiers. We invite you to enjoy this unique area around Gudauri. Unique – because you will have deep powder snow ski runs to yourself – incomparable space, beauty and skiing, over 1200 km² at the highest safety and quality standards.
Flying
Your safety is of paramount importance to us. We have the most experienced and best Austrian pilots and Austrian mountain guides with a new state of the art helicopter. Your heliskiing will be both – fascinating and safe.
Relaxing
The 4-Star Hotel "rooms" in Kazbegi, close to Gudauri, is an outstanding hotel and rewarded with many international architecture-prices. It's a perfect place for a time out from everyday life. You will enjoy staying there.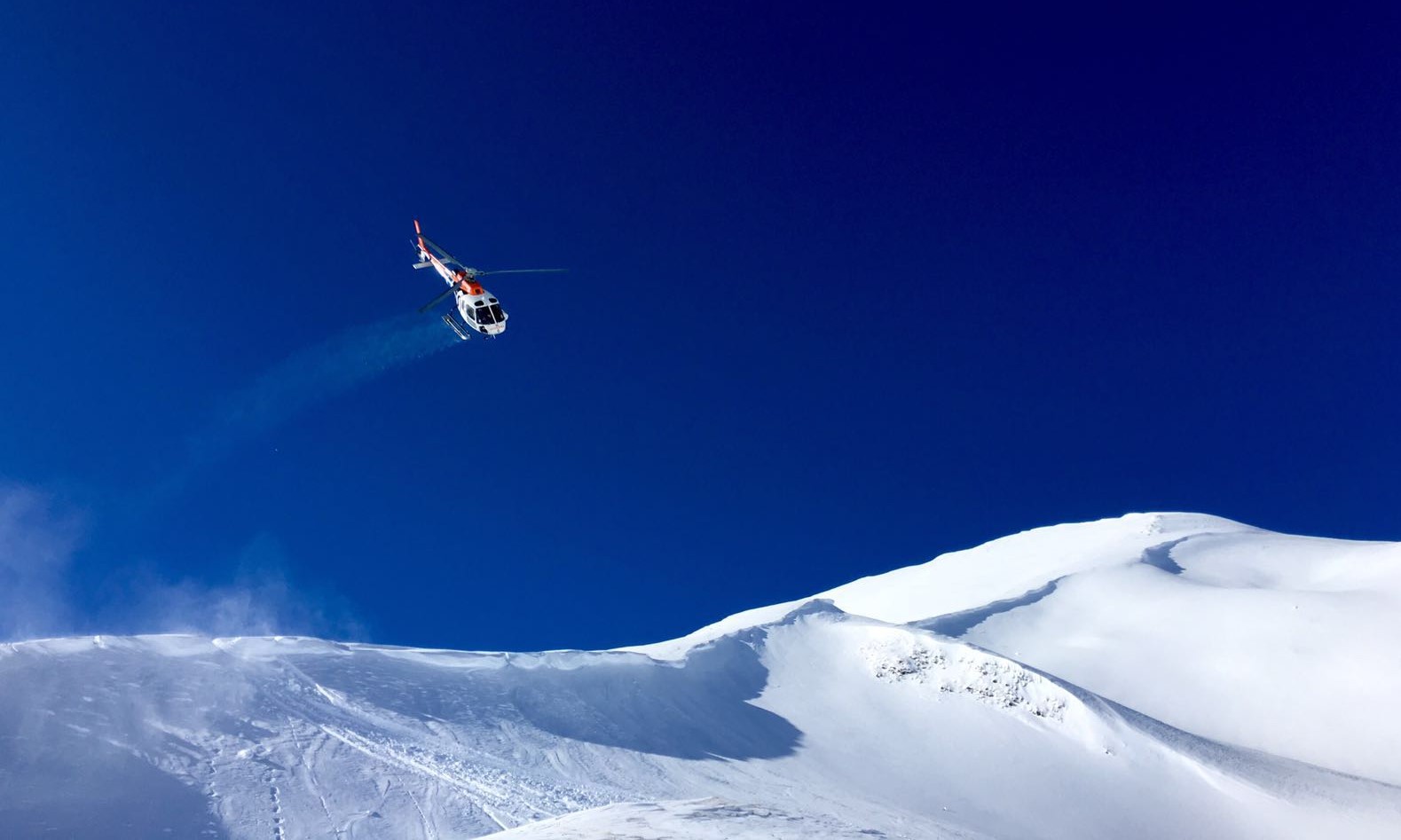 Helicopter and Crew
When it comes to flight safety and aircraft, we pay great importance to European quality. In the Caucasus we use Airbus "Ecureuil" AS 350 B3 helicopters. These helicopters, which are extremely powerful and safe in the mountains, offer space for 5 passengers plus the pilot. The aircraft are flown exclusively by pilots with extensive alpine experience, and our technicians guarantee the perfect maintenance of the helicopters, this guarantees you the highest possible standard of safety.
Where is Gudauri/Kazbegi?
Gudauri is the biggest ski resort in the Georgian Republic in the Caucasus mountains. It is located on the "Cross-pass" approximately 100 km in the north of the capital, Tbilisi, at the junction between Europe and Asia. The Caucasus mountains stretch over 1100 km across between the Black Sea and the Caspian Sea with some volcanos such as the Elbrus (5642 m) and the Kazbek (5047 m).
These mountains offer you a breathtaking panorama around the heliski area.
Heliskiing
The amount we ski can vary from day to day, depending on weather and snow conditions, skiing ability and fitness of the groups.
We have lots of runs available to be skied in our area which spreads over 1.250 km². Our landing zones are between 2.900 – 3.400 m.a.s.l, giving us vertical drops of between 500 – 1.200 m.
ITINERARY
Welcome on the first day in Tbilisi and Kazbegi (Saturday):
Arrival early in the morning at 5am in Tbilisi. Our shuttle will pick you up at the airport. After a 2,5 hours drive to Kazbegi, you will check in at the "rooms" hotel.
Welcome Meeting, distribution of equipment, safety briefing and helicopter briefing from midday onwards with the guides and pilot. No skiing will take place on Saturday.
2nd to 6th day (Sunday until Friday):
Heliskiing – runs and area of operation will be decided daily depending upon the weather, snow and avalanche situation by the guides and pilots. Lunch will be consumed on the snow.
6 day (Friday):
You will leave Kazbegi after Heliskiing and be driven back to Tbilisi. Check in at the Holiday Inn in Tbilisi.
Say Good-by to Georgia on the 8th day (Saturday):
Our shuttle will take you to the airport at 02:30am. Time to say good-by. If you want to stay longer or you have a different flight, we can organize an extra transfer.
Wucher Heliskiing Caucasus (c) Hanno Mackowitz